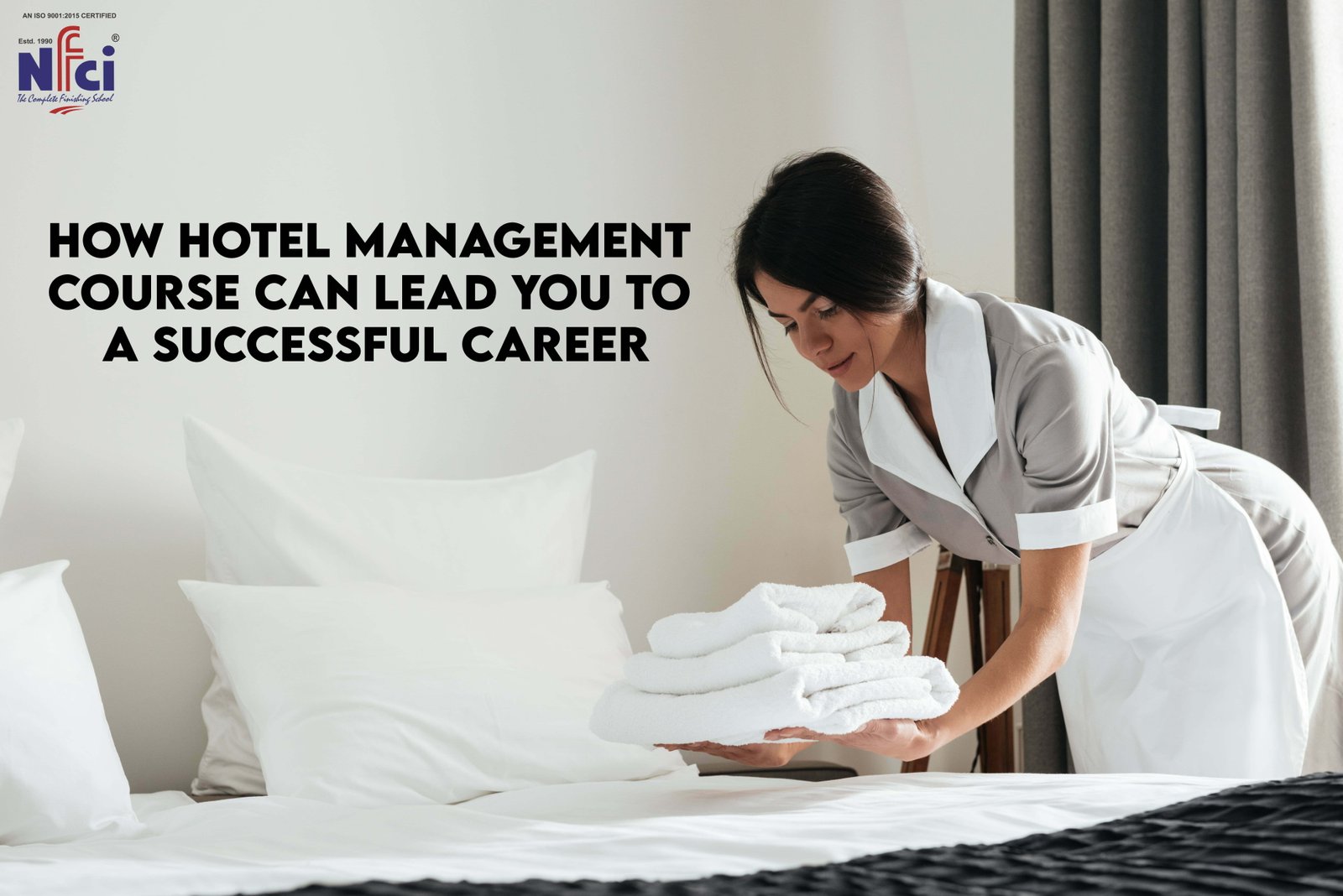 How a Hotel Management Course Can Lead You To a Successful Career?
What is the admission criteria for Hotel management courses?
Imagine a profession where you have the full privilege to roam around every corner of the world while working in a luxurious hotel or restaurant. Doesn't it sound mesmerizing! Moreover, you will receive a lavish salary with all the extra perks. Yes, you can make this dream-like scenario come true if you decide to enter the hotel management industry. There is no denying the fact that a marvelous hotel management career in the hotel  has become synonymous with success in today's business world. There are currently about 2 lakh hotels in the globe, and the number is exploding.
Moreover, if you have a desire to become a chef but don't know where to commence then you can easily get connected with the National Finishing and Cookery Institute (NFCI). It is one of the most recognized Hotel Management Institute that provides a wide range of courses to give a strong platform for your profession as an experienced chef. Before moving on further let's understand why one should prefer drinking all types of career-related juices of the hotel management sector.
In India, Hotel Management is among the most sought-after programs. As a result, hotel management or hospitality courses are an excellent choice for anybody with the abilities necessary to thrive in the hotel management business, both on the local and worldwide market. What job options are available to you with a course in hospitality, hotel management, or tourism?
Is hotel management a good career option?
There is no denying the fact that the hotel management provides excellent employment prospects. In India's hospitality industry, hotel management and hospitality play a vital role. Estimates suggest that more than 8% of the country's workforce is employed in the hotel management business. As a renowned tourist destination, India receives a huge number of international visitors every year. So, it provides a big boost to the entire hotel management industry.  
Moreover, the number of hotels and resorts is rising year after year to handle the influx of local and foreign tourists to the country. As hotel and inn owners establish hotels and resorts in tier 2 and tier 3 cities, the demand for hotel management experts is on the rise, and the supply is not keeping pace. There are no two ways of stating that many businesses are developing and joining the worldwide market due to globalization. Nearly every region is publicizing itself as a tourist destination to attract people from across the world, which has resulted in a boom in the hotel and related industries worldwide. If you are still asking yourself why hotel management as career then read the blog further and clear all your doubts without any hassle.
Scope of Hotel Management course
Due to the recent development in the tourist industry, the hotel industry is one of the top recruiters. Adventure tourism, health tourism, and heritage tourism are all rising in popularity. They will be able to receive work in the hospitality industry because of these developments. Management of hotels, eateries, and villas, cruise management, administration and management of catering, hospital catering, airline catering services and loading houses, among others, are some of the responsibilities of hotel management scholars. If you truly aim to gather hospitality management career information then this blog can work wonders for your case.
Qualified individuals can get employment at five-star hotels, well-known eateries, and resort companies. You would be familiar with the fact that food is also the main reason why most of us remember a place. So, with food, you always care about the ambience of that specific place. So, maintaining a good atmosphere is the duty of the hotel management department. As people are crazy about going out and having intimate gatherings, that is becoming the main reason why there is a great rise in employment under the hotel management sector. This usually describes the importance of hotel management in the country.
After completing the hotel management course you have the full privilege of getting appointed as
Hotel Manager-

This position holding professional usually oversees all areas of the business, including finances, services, catering and food quality as well as decorating and cleanliness.

Food and Beverage Manager-

This position holder usually

manages the catering divisions, from tiny casual diners to major restaurants.

Executive Chefs-

They are in charge of the kitchens and are responsible for the menu and meal preparation.

Front Office Manager-

The main responsibility of this position holder is to handle the front desk, information clerk, receptionists, and other services; coordinates reservations and room assignments.
Housekeeping Department- Cleanliness, orderliness, and quite well property are the responsibility of the housekeeping department. Housekeeping supervisors are responsible for the training, scheduling, and work of housekeeping staff, as well as room inspections and cleaning supplies. If you want to know is hotel management a good career option then leave all your work aside and read this blog with full concentration.
As an example, let's look at why hospitality is still a viable career option.
Prepare yourself for a global exposure industry with low barriers to entry and high development potential. It's a diverse sector, so you have a wide range of job options: from hotels to restaurants to cruise ships to aviation to events to facility management to movie theatres to theme parks to travel agencies to startups. Preparing to work in one of the most varied diverse workplaces is essential. The hospitality sector has been rising at an exponential rate for decades.
Don't miss this opportunity to learn hotel management!
Selecting a hotel management degree is motivated by the industry's rapid growth. According to the above statistics, the hotel sector is growing dramatically, and with it, job possibilities. Your skills will be sharpened by taking education in hotel management, preparing you for a rewarding and engaging career. Gather all possible information about the importance of hotel management by connecting with a reliable source.
Wrapping up
All in all, hotel management is undoubtedly a rewarding professional path to pursue. The COVID epidemic has exacerbated the negative perception of hotel management professions. Rest certain, however, that the hotel and leisure sector will continue to be one of the fastest-growing industries, giving infinite chances to its employees in the years to come. You can also enter this industry without any hassle with the true assistance of one of the most recognized Hotel Management Institutes-National Finishing and Cookery Institute (NFCI)