Warning
: Undefined array key "background_display" in
/home/u577826663/domains/nfcihospitality.com/public_html/wp-content/plugins/siteorigin-panels/inc/styles.php
on line
631
Certificate in Indian & Tandoor
The demand for expertise and specialization has increased in the Culinary world. So, we have formulated a wide array of specialized courses to suit the industry needs. Our certificate course in Indian and Tandoori cuisine is a specialized course in Indian cooking techniques and the preparation of authentic Indian food. It is a 3-month certificate course that provides a platform to learn and master Indian cuisine. The course includes the ancient technique of tandoori cooking and the great variety of Indian curries. 
Our qualified and experienced professionals in Indian Cuisine focus on aspiring chefs who want to establish themselves in Indian and Tandoori cuisine by guiding them to learn various styles of marinating and preparations. Tandoori cooking originated in ancient India. It is used to make certain types of vegetarian and non-vegetarian dishes. Charcoal adds a smoky flavor to cooked food which not only gives it a natural dye but it ensures negligible loss of nutrients while cooking vegetables and meat.
NFCI Offers advanced culinary courses. Our Certificate Course in Indian & Tandoori Cuisine  covers Tandoori Roti / Bread which is the other version of roti as it is crispy and becomes heavier when the dough is baked in tandoor. Mostly milk or yogurt is blended with dough to make bread soft and chewy. There are lot of varieties that can be found in tandoori roti from simple to stuffed naans or lachha parantha. With our certificate course in India Cuisine, you will learn all  Indian cooking skills from basics to advance. 
Warning
: Undefined array key "background_display" in
/home/u577826663/domains/nfcihospitality.com/public_html/wp-content/plugins/siteorigin-panels/inc/styles.php
on line
631
Indian Cuisine Course Details :
The true value of a certificate course in Indian cooking lies in various unique skills taught throughout the certificate program. The skills gained by culinary course give the way to success and prosperity in a career. Candidates get to learn:-
KNIFE SKILL: Students learn about using different kinds of knives and accurately perform different types of chopping and cutting activities for cooking.
MARINADES & PREPARATIONS:  We teach aspirants about the various types of Basic Marinades and Preparations used in the Tandoor like Tandoori Masala, Shashlik, Malai etc.
PREPARATION OF DOUGH:  Candidates get to know about the preparation of different kinds of dough that are a part of Indian cuisine like Atta-based, Maida-based dough.
USE OF FLAVORS: There are specialized classes on the use of a wide range of authentic Indian flavors and aromatic Indian species as ingredients.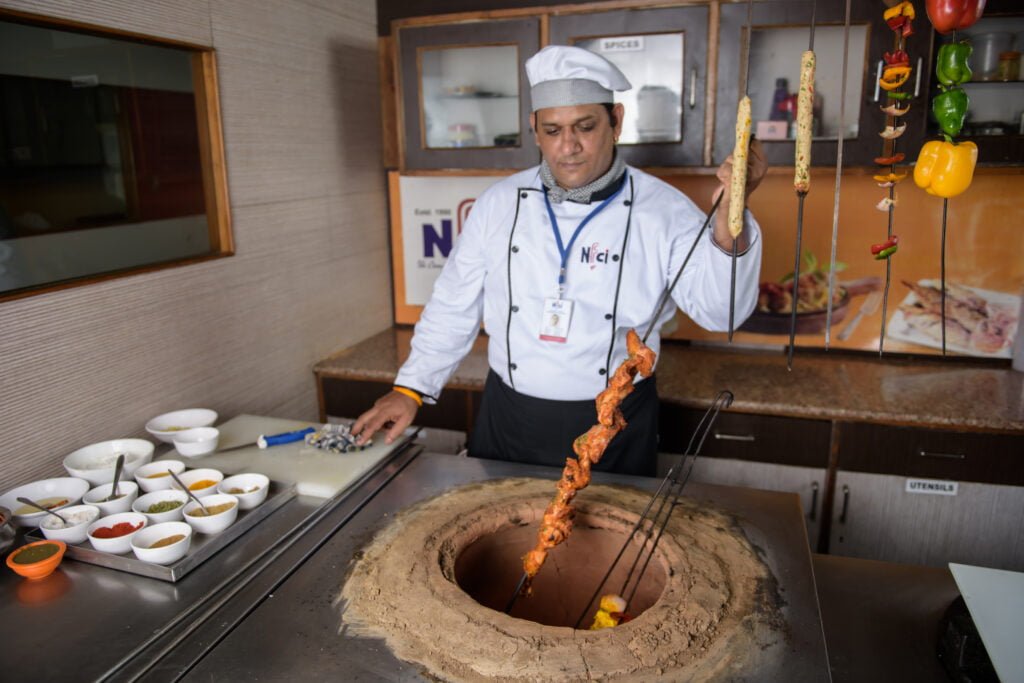 Our Indian Cooking Certificate Course Is Suitable For:-
The certificate course in Indian and Tandoori cuisine is specially designed for candidates to gain extensive knowledge about Indian food preparation techniques.  Students learn and gain special cooking skills during the practical sessions and industrial training. This certificate course is ideal for:-
Professional chefs and cooks who are not well aware of the Indian recipes and traditional cooking methods

People willing to start their professional kitchen (restaurant or hotel)

A food enthusiast who always wishes to learn the right way of cooking lip-smacking Indian Cuisine.

Aspiring chefs who want to gain expertise in the niche of Indian cooking and tandoori cuisine.
People who aim to work in popular Brands or food chains of restaurants popular for Indian and Tandoori cooking.
The eligibility of this course is:
| | | |
| --- | --- | --- |
| Course Name | Eligibility | Duration |
| CERTIFICATE COURSE IN INDIAN & TANDOOR |  10th(Matriculation)  | 6 Months |
Students of different educational and occupational backgrounds can enroll for this course at NFCI Hotel Management and Culinary Institute.  
What Will You Learn?
On successful completion of the CERTIFICATE COURSE IN INDIAN AND TANDOORI CUISINE, you get a recognized certificate in Indian and Tandoori cuisine. It is universally accepted by our certified institute.  After the successful completion of the Indian cooking certificate course, you will gain expertise in:-
1. Tandoori cuisine
2. Indian food preparation skills
3. Indian Food 
A qualification in this course shall bring an opportunity to work as an Indian cuisine or Tandoori cooking expert in restaurants and hotels. Get an opportunity to work as a professionally Part-time expert chef, Full-time chef, or a Tandoori food specialist. An added benefit of Certificate in Tandoori cuisine is the opportunity to work on flavors. Popular food brands occasionally introduce a new flavor in their dishes and Tandoori flavors is one of the most popular flavors in the world. As an expert in tandoori cuisines, a candidate can get good exposure in the international world. There are numerous employment and business opportunities to work in a good kitchen- setting with a decent earning.
We have fully equipped labs with a comprehensive range of ingredients and equipment for learning Indian cuisine and tandoori cuisine. Our professional and competent educators give you the best training and impart all the essential skills for your bright future. We have great opportunities for students to shape their bright careers in Indian culinary.
"Sharpen Your Knives And Become An Indian Cuisine Expert With Our Certificate Course in Indian and Tandoori Cuisine."