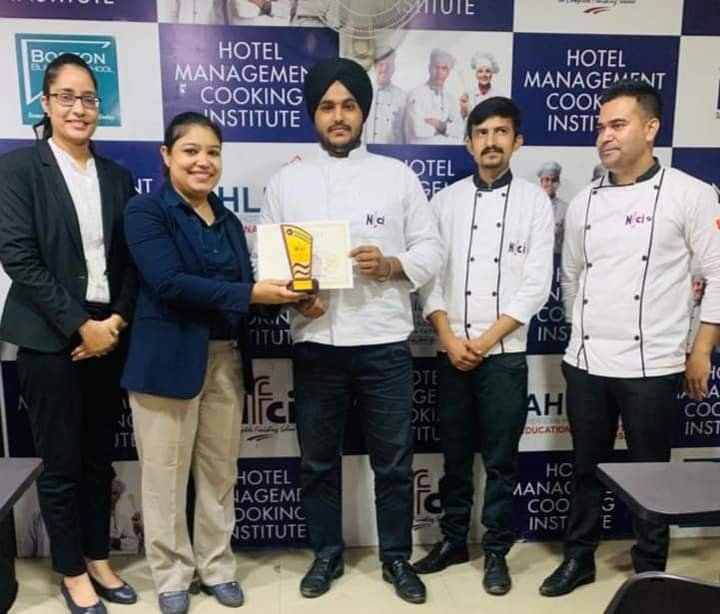 Press Note – "Student of the Month" – Ludhiana Campus
What is the admission criteria for Hotel management courses?
"Appreciation is one of the most beautiful forms of education"
NFCI – Hotel Management and Culinary Institute, Ludhiana has always believed in acknowledging and applauding the efforts and consistent performance of its students.  Therefore, a ritual of rewarding the students with "STUDENT OF THE MONTH" is done every month whereby, students who fulfil all the criteria's and qualify in the following standards are awarded with a certificate and trophies.  This month budding chef – Mr. Neeraj, Mr. Abhishek Singh, Mr Hitain, Ms. Sarbjeet Kaur and Ms. Mandeep Kaur were awarded with "STUDENT OF THE MONTH".
The criterion includes following the hospitality standards, namely: Grooming, hygiene and uniform, Discipline, Attendance, Participation in activities and Clearance of all the dues.
GROOMING and hygiene are an important aspect of the hospitality industry. Students must adhere to these standards which includes proper shave, beard net for students who wear turban (keeping the religious sentiments in mind while adhering to the industry norms) trimmed nails, neat and tidy uniform for all the male students and female students shall also abide by the same rules, while also keeping their hair neat or in a form of a bun, and wearing minimum basic makeup.
DISCIPLINE is the bridge between goals and accomplishments. It is the most important attribute required in an employee for any industry. Discipline is required not only for professional but for personal growth also. NFCI Ludhiana, helps the students to understand this important life skill from the very beginning, which students inculcate during their course of learning.
ATTENDANCE is mandatory, whereby students understand how to prioritize their working today, so that when they work tomorrow in the industry, they know how to manage with less leaves while maintaining a proper work life balance.
PARTICIPATION is another important social skill, because you understand the importance of your contribution. While participating in the activities, students learn about team work, time management and getting results, which again prepares them for the industry challenges tomorrow. Recently NFCI students have been selected in "BATTLE OF SKILLS" and would
DUES CLEARANCE makes them understand the importance of financial planning, which would again help them while they work in the industry tomorrow. Students would understand the significance of getting the dues cleared from their customers while working, and manage the flow of funds.
All these pointers are shared and explained to all the students and executed throughout the course time. At NFCI, though we have various govt. and international affiliated courses, we also offer customized culinary courses according to the need of the student. With utmost professional environment, students get the practical experience of all the recipes to hone their culinary skills and make a mark in the hospitality industry.