Certificate in Chinese and Continental
Different types of cuisines are prepared in different parts of the world. There are American, Indian, Chinese, Lebanese, Japanese, and several other cuisines. Chinese & Continental are the most popular cuisines in the world. The increased globalization has contributed to the global popularity of this cuisine. The Chinese people believe that their cuisine has become renowned because it is the best in the world. While others don't agree, still this cuisine is widely preferred especially in India. Chinese cuisine is one of the oldest cuisines in the world. At the same time, the cooking process is very complex and different from the European style of cooking. For this reason, Certificate in Chinese and Continental Course has been designed to make students specialize in these exotic cooking styles.
National Finishing and Cookery Institute (NFCI) offers a specialized Certificate in Chinese & Continental cuisines for aspirants to master these cuisine.  Students get to learn about cooking various traditional and modern Chinese & Continental dishes. They learn about ingredients and cooking techniques involved in preparing Chinese & Continental.  NFCI offers a 2 months Certificate in Chinese & Continental cooking course to make aspiring chefs competent in international cuisines.  We have the best educators and trainers with good placement offers. 
More about Certificate Course in Chinese & Continental Cuisines
Students who enroll to pursue the Certificate in Chinese and Continental Cuisines will learn about the following skills:-
1. Preparation of sauces- Several sauces like soy sauce, red chilli sauce, schezwan sauce, etc are used in cooking Chinese food. Students are taught to prepare different kinds of Chinese sauces that are used as a base in Chinese cooking.
2. Use of oriental vegetables- South-Asian cooking is also known as oriental cooking. It involves the use of a wide range of vegetables grown in southeast Asia. So, Students are taught about the use and nature of these oriental vegetables.
3. Continental cooking skills- Continental cooking refers to European and American cuisines. Students are taught about preparing European dishes like pizza, pasta, soups, etc.
4. Preparation of soups- The Chinese soups are very different, exotic, and popular. Students are taught about preparing manchow soup, hot and sour soup, Tom Yum soup, etc. Origin of Chinese cuisine, varity of sauces, types of soups, preparation of overall Chinese dishes. Background of continental cuisine, Knowledge about Italian, French, English food. About Salads and six mother sauces.
5. Cooking overall Chinese dishes- Students are taught about cooking various Chinese dishes like noodles, fried rice, manchurian, spring rolls, etc.
6. Knowledge of Italian, French and English food- Our certificate course in Chinese involves teaching students about cooking and preparing Italian, French, and English food items.
7. Preparing salads and mother sauces- Salads and mother sauces are a vital part of continental cuisines. Students are taught about preparing a variety of salads like green salad, Russian salad, and other sauces.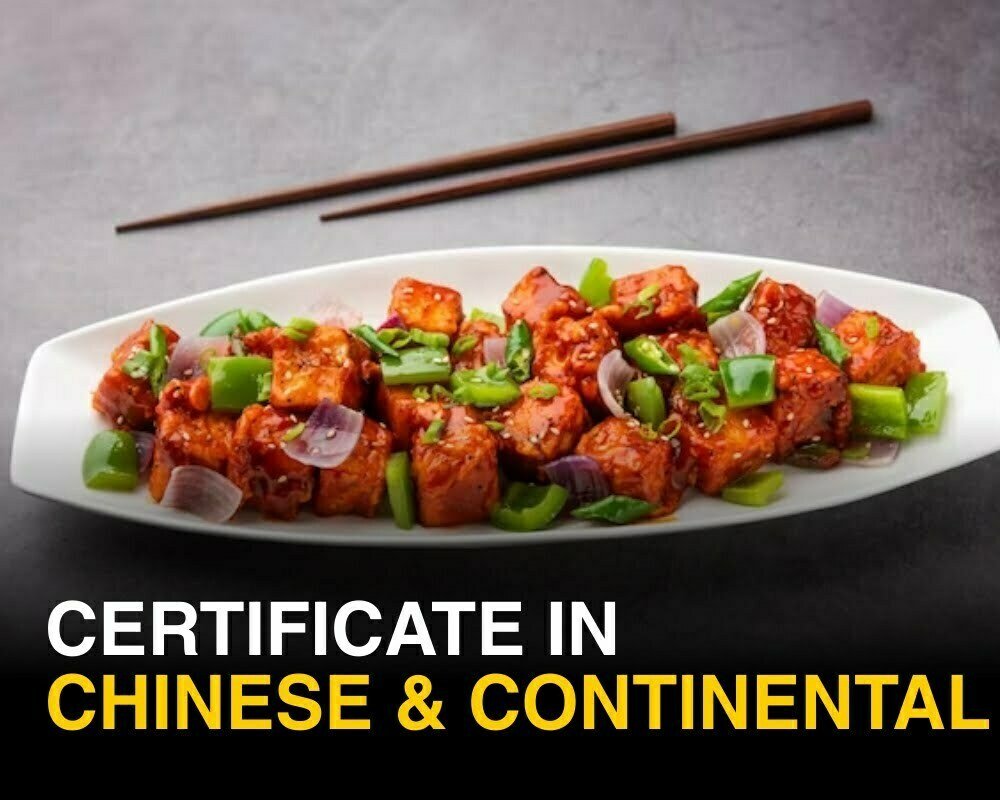 Certificate in Chinese & Continental is Relevant For
1. Aspiring chefs who want to get a professional qualification in culinary.
2. Professional chefs who want to give an edge to their skills by getting expertise in Chinese & Continental Cuisines.
3. People who want to start a Specialty restaurant, food outlet, or cafe.
4. People want to get a qualification for their passion for cooking.
The eligibility of this course is:
| | | |
| --- | --- | --- |
| Course Name | Eligibility | Duration |
| CERTIFICATE IN CHINESE & CONTINENTAL |  10th(Matriculation)  | 2 Months |

Students and people from different fields can enroll in this course at NFCI - Hotel Management & Culinary Institute.
Wants to be certified in regional Indian cuisine? Join our certificate course in Indian.
What Will You Learn With Certification Course in Chinese and Continental Cuisine?
On successful completion of the Certificate in Chinese & Continental Food, Course can gain expertise in chinese and continental cooking. The students will be rewarded with a certificate at the end. They can complete this course at their own pace online through "theilearning" which is a digital learning platform by NFCI. It is available at a pocket-friendly price with placement options.
After getting a Chinese cuisine certificate, students will be able to prepare exotic Chinese and continental food. They will get knowledge and skills about different international cuisines. This will enable them to work at specialty restaurants,  cafes, hotels, resorts, and other outlets of the food and beverage industry. 
"Become a Chinese and Continental Cuisine expert with Certification Course by NFCI."