Certificate Course In Food Production (AHLEI)
The food and beverage industry has evolved and encompassed new technological innovations. Even the traditional cooking methods have been fused to form some new food preparation methods. People love to eat a variety of dishes from around the globe and this can increase the revenue of the industry. Restaurants, cafes, hotels, resorts, etc are looking for qualified and professional chefs with good qualifications from AHLEI courses to manage commercial work. To match the growing standards new courses have been designed to train aspiring chefs.
National Finishing and Cookery Institute (NFCI) provides advanced culinary courses a certificate in food production (AHLEI). This Certificate Course in Food Production is affiliated with AHLEI  (American Hotel Lodging Educational Institute).  We have well-equipped labs with experienced chefs as educators that teach and train the students in AHLEI  Courses. NFCI provides regular workshops and guest lectures for more knowledge and information. Moreover, students can gain knowledge from easy books and industrial training.
NFCI Introducing our Dual Certificate course – Certificate in Food Production (AHLEI) + Commis Chef (NSDC)
Avail the offer before its end !!!! Enroll for the course and give wings to your career
Certificate in Food Production Course Details
1. Presentation skills- Presentation is an important part of cooking and food preparation and makes the dishes appealing. Students are taught about good and advanced presentation skills in the course.
2. Service techniques- Foodservice is also an important part of hospitality and customer service. For this reason, aspirants are taught good serving skills and techniques.
3. Cooking methods- There are numerous ways of cooking me preparing food traditionally and technically. Students are taught about different cooking methods like frying, chilling, roasting, barbecue, etc.
4. Indian cuisine- Indian cuisine is one of the most popular cuisines in the world. Students are taught about cooking a wide range of Indian dishes from all the regions of India.
5. Chinese Continental cooking skills- Along with Indian cuisine, students are taught about Chinese continental food preparation and cooking skills.
6. Tandoor and bakery skills- Tandoori and bakery dishes have a special place in cooking and food preparation. Students are taught about the use of baking techniques, chilling, setting, and even the use of tandoor for food preparation.
7. Hygiene and sanitation skills- The importance of hygiene and sanitation cannot be neglected for cooking. Hence, this course imparts students with the training of hygiene in food preparation and kitchen management.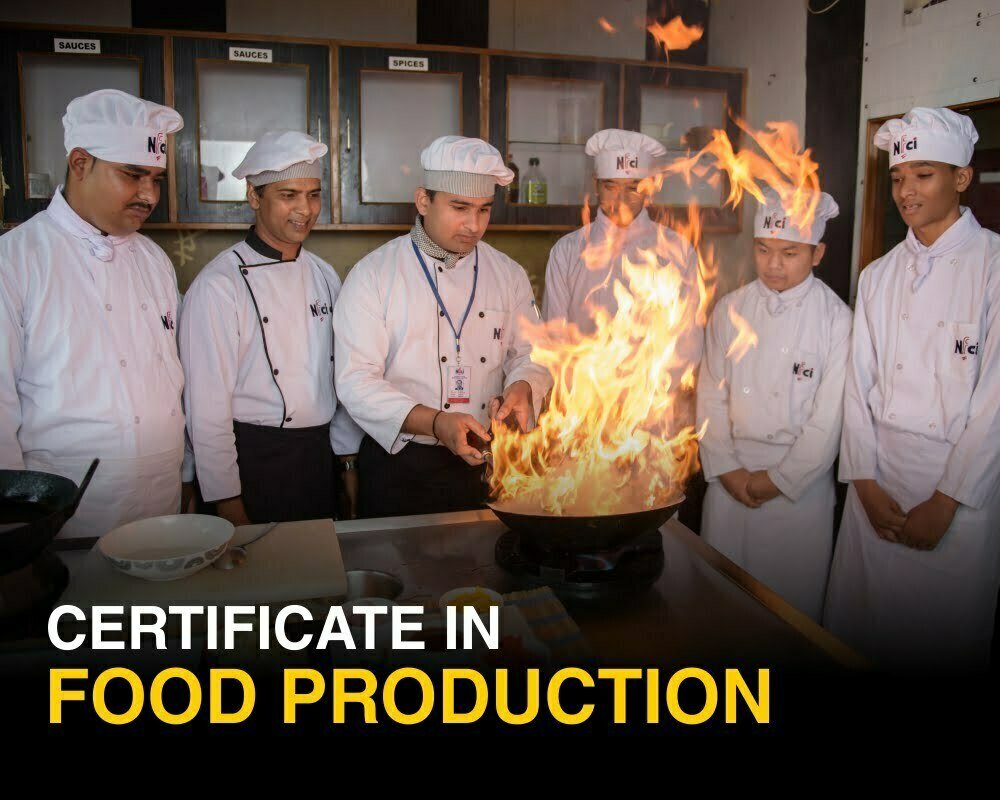 The Food Production Certification Course is Ideal For the Following:-
● Aspiring chefs who want to learn professional cooking and get a professional job in the food and beverage industry.
● People who want to work in the culinary industry abroad.
● People who are planning to start their restaurant, hotels, cafe.
● People who want to become an entrepreneur in the culinary world.
● Professional chefs or aspiring chefs who want to get mastery in food production techniques.
● People who don't want to go for a full-time 3 years course.
The eligibility of this course is:
| | | |
| --- | --- | --- |
| Course Name | Eligibility | Duration |
| CERTIFICATE IN FOOD PRODUCTION |  10th(Matriculation)  | 1 Year and Industrial Training 6 Months |
Students from all backgrounds with this eligibility can take admission in the AHLEI Course in NFCI Hotel Management and Culinary Institute.
What Will You Learn From a Certification In Food Production (AHLEI)?
On successful completion of the Certificate Course in Food Production, You can gain mastery in the preparation of food and kitchen management.

Students will receive triple certification at the end of the course with this internationally affiliated course. Aspiring chefs with this qualification can work at renowned resorts, cafes, restaurants, cruise lines, and even catering services and popular food franchises around the globe. They will become competent in food preparation and learn about kitchen management and cooking techniques.
This course is available online for aspiring chefs to learn new skills at home. People fulfilling this eligibility can take up courses in food production on "theilearning", an online learning platform by NFCI. This will give proper certification and job opportunities to aspirants.
"Step Into Professionalism with Food Production AHLEI Courses by NFCI."

Do You Have Passion For Food ?