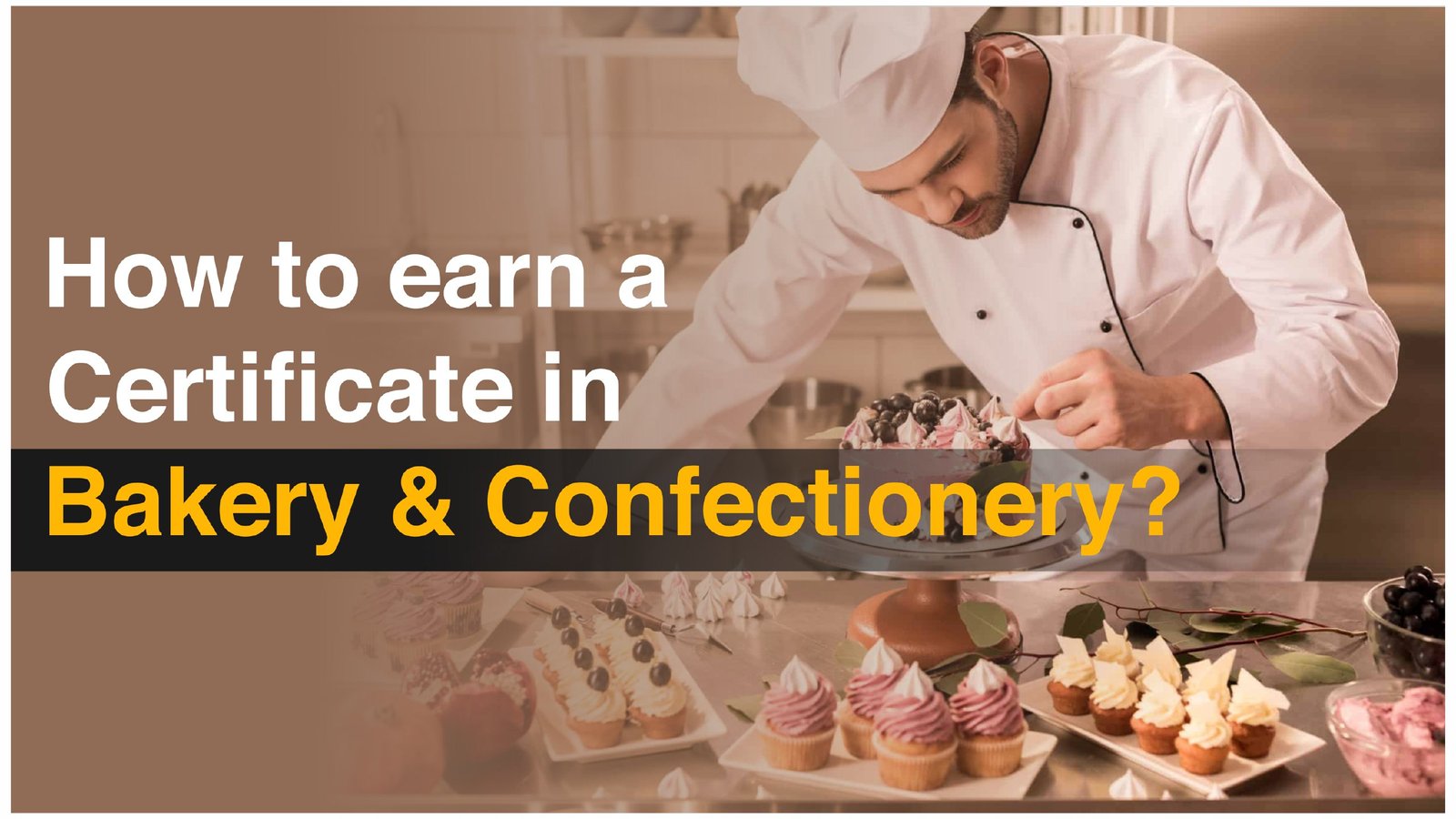 5 Proven Steps to Earn a Certificate in Bakery and Confectionery
Bakery and confectionery are salient and well-loved aspects of the food and beverage business. For a formal culinary credential, students who are passionate about baking can enrol in professional certificate in bakery and confectionery courses. Among other things, students pick up a variety of baking, freezing, decorating, and styling techniques. A Certificate in Bakery & Confectionery is the program for you if you enjoy creating peculiar treats and want to work as a pastry chef.
| | |
| --- | --- |
| Course Type | Certificate |
| Duration | 1 to 2 year |
| Course Fee | 25,000 – 100,000 INR |
| Top Recruiting companies | Radisson, The Leela Palace, Le Meridien, Oberoi, Hyatt, The Taj Palace, Fairmont, Roseate House, Bikanervala Foods, Mahindra Holidays & Resorts India ltd., Old Madras Baking Company, The Umrao, and others. |
| Job Positions | Bakery Expert, Commissary Baker, Artisan Baker, Bread Baker, Head Baker, Manager, Apprentice Baker, Pastry Chef, Assistant Baker, Decorator, Food Critic, Supply Chain Manager, Maintenance Manager, etc. |
A certificate in baking and confectionery:
A certificate in baking and confectionery is an undergraduate study. Candidates who complete this study receive a certificate. Participants in the workshop learn how to create chocolates and different kinds of sweets and bake different kinds of bread.
Qualifications for the Bakery and Confectionery Certificate: 
Each institute has different prerequisites for admission to its certificate program in baking and confectionery. The minimal prerequisites listed below are what organisations look for when considering applicants for the certificate in baking and confectionery program.
Candidates must have received their 10th or 10+2 from a reputable board in any stream (Science, Commerce, Arts, or Humanities). Also, they must obtain a minimum score of 50% in 10th / 10+2.
Admission Process:
Each university has a different admissions process for its certificate program in bakery and confectionery. The fundamental steps for admission are listed below:
The official website of the college or university is where people must register in order to get admitted.

They have to show up for the admissions test on the scheduled date and time.

The cut-off rank or score must be attained before the deadline.

Freeze the seat and make the necessary payment.

The documentation process is completed.

Ensure the enrollment process is effective and that all outstanding tuition is paid.
Certificate in Bakery and Confectionery Syllabus:
The following is the curriculum for certificates in baking and confectionery:
| | |
| --- | --- |
| Theory | Practicals |
| Bakery | Bakery |
| Confectionery | Confectionery |
| Commodities | Computer Awareness |
| Hygiene & Sanitization | Food Library |
| Food Costing | |
Average Costs for a Certificate in Bakery and Confectionery:
 Depending on the institute, a baking and confectionery certificate can cost more or less. While some colleges may charge a high price, others may only charge 25000 INR for the training. The college's management authority, which considers many elements, establishes the cost structure. Costs for a baking and confectionery certificate range from 25,000 to 100,000 INR.
Options for careers following a certificate in bakery and confectionery:
Participants in bread and confectionery studies have access to various employment options. The main career options for students enrolling in a bakery and confectionery certificate program are listed below.
Baker:
A commis baker is a junior baker who works under the chief baker's supervision. A commis baker is referred to as a trainee. They pick up the skills necessary to work in a bakery or at a dedicated bakery station.
Cake Decorator:
A baker specialising in producing and decorating different types of cakes is a cake decorator, sometimes a cake designer. He bakes and decorates cakes for weddings, birthdays, anniversaries, special occasions, and other events. A cake designer also decorates custom cakes according to the client's specifications.
Pastry Chef:
A qualified expert who works in the pastry kitchen is a pastry chef. They make desserts, pastries, and other baked items like sweets, pies, chocolates, custards, bread and cookies.
Head Baker:
A supervisory baker that oversees the entire bakery is known as a head baker. They develop recipes, design them, and oversee the daily production of bread and other baked goods.
Do you want to earn Certificate in Bakery and Confectionery?
For those who enjoy baking, the National Finishing and Cookery Institute provides professional certificate programs in bakery and confectionery. It includes lessons from specialists in the field, exercises, theoretical knowledge, and training in the workplace.
Students also learn about creativity, experimenting, and communication skills in addition to bakery and confectionary abilities. The duration of this course is one year. Become the scrumptious baker of your dreams by enrolling in our course right away!
For more information or any query, don't hesitate to contact us.