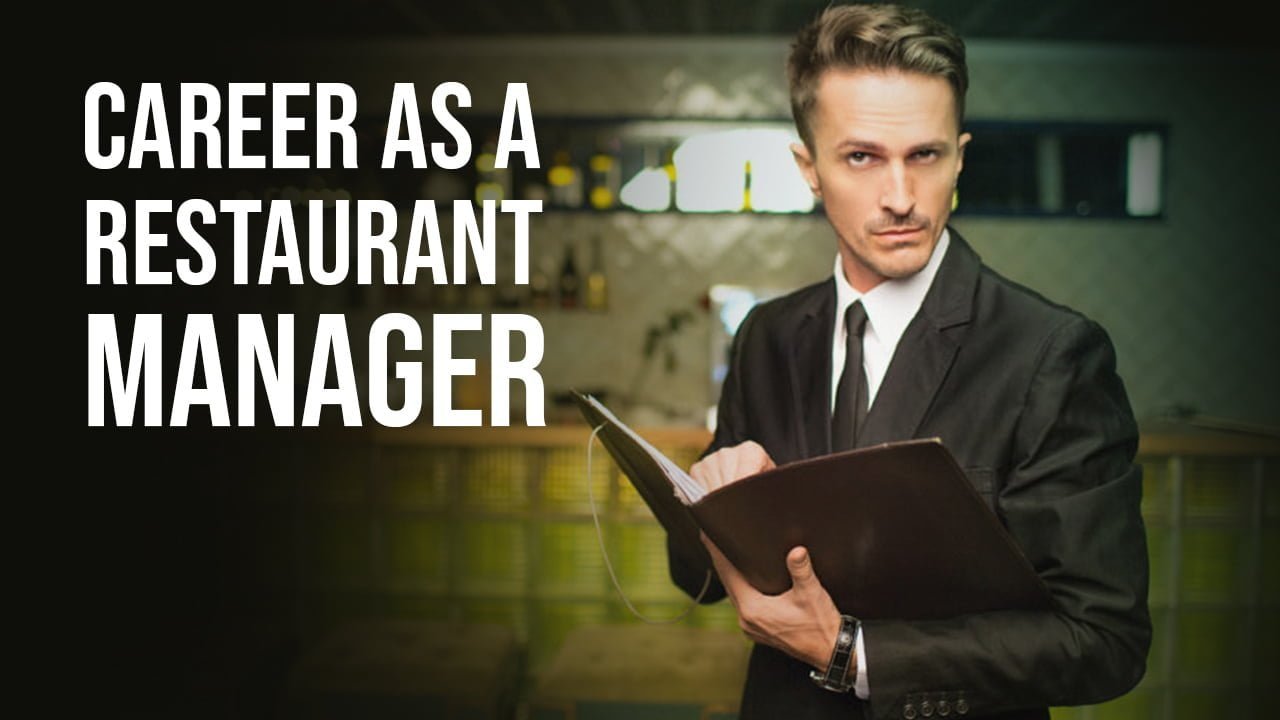 Career as a Hotel Manager
Do you want to be a part of the Hospitality Industry? 
Is your dream to become a restaurant manager? If yes, then you are in the perfect place because you will get all the required information about your dream to set a career as a restaurant manager. 
If not, then it doesn't matter because after reading the things written below, you would really like to become a restaurant manager.
Who exactly is a restaurant manager?
 'Being a restaurant manager is a lifestyle, not a job'- Jerry Westrom
Many people's dream job is to establish their career as a restaurant manager. And why not? Who would not like to manage such an expeditious and interesting business? This creative job comes with culinary and business challenges. 
Whether it is inventory management, staff coordination, personnel management, and cooking staff, a restaurant manager has to manage all the areas of operations. Overall, we can say that a restaurant manager's key responsibility is to manage all the restaurant's daily operations. The goal is to provide high-quality and best experience to the customers while controlling the cost.
Required skills in the career as a restaurant manager –:
The skills required in a career as a restaurant manager depend upon the size of the organization you are working in. For instance, a person working in a small restaurant may expect to have high skills but be guided to operate at a low volume. But, in the international or national organization, a highly-skilled manager is recruited to do duties on a large scale.
Below are given some skills that are must to establish a career as a restaurant manager –
A restaurant manager must have leadership skills.

Minimum 2 years of experience in the respective industry.

Diploma holder or equivalent.

Communication skills must be excellent.

Must be able to motivate others.

Must have knowledge about inventory management.

Must have knowledge about the software of accounts

Must know about customer service.

Must be able to work at flexible hours.

Must be fair

Reliable

Multi-tasking, etc.
Career as a restaurant manager-: Duties and responsibilities: –
A restaurant manager is a ONE JOB WITH MANY HATS. Just like a captain of the ship, a restaurant manager handles everything in the restaurant. But do you have any idea what kind of responsibilities a manager must perform? If not, then come let us tell you about the responsibilities of a career as a restaurant manager –
To handle team conflicts: The restaurant manager handles all the conflicts between the staff and acts as a mediocre so that all the staff members co-operate with each other and provide the best experience to the customers coming into the restaurant. 
To look after team performance: The restaurant manager's responsibility includes looking after the team performance. It is necessary to check if all the staff members are doing the duties as suggested or not. 

Team performance is also important to observe because job promotions are directly linked with it. 

To streamline operations: To lead the team, the restaurant manager has to search for the best tools that help the staff to work smoothly. For instance, finding software for front desk operations to provide better service to the guests. 
To do Hiring: The restaurant manager is completely responsible for hiring the employees. It also includes creating jobs, taking interviews, finalizing candidates, and providing training to them. This is considered the most critical duty of the manager. 
To make sure guest satisfaction: One of the key responsibilities of the restaurant manager is to make sure about guest satisfaction. A manager has to maintain calm even while taking customers' complaints. Also, customer feedback is also reviewed by the manager only. 
To manage inventory management: Though kitchen staff looks after all the inventory, the restaurant manager is actually involved in re-ording things, taking contracts, and negotiating rates with the vendors. 
To manage finance work:Restaurant finance is often managed by restaurant managers. From managing the budget to the payroll process, everything is managed under the supervision of the restaurant manager. 

Some duties related to keeping an eye on the growth of the business and informing about the same to the business owners are also the responsibility of the restaurant manager.  

To take safety measures: Restaurant managers already had a lot of responsibilities related to food, theft prevention, etc. But, after the pandemic, some more responsibilities have been added to the list. The restaurant managers must take safety measures seriously because people are becoming very possessive about their safety after Covid-19.  
Advantages of a career as a restaurant manager-: 
A restaurant manager's responsibilities come with some advantages as follows –
Interaction with customers

Menu and staff updation as per the requirement of the organization

Full control in the restaurant

Handsome salary

Interesting job
Disadvantages of a career as a restaurant manager-: 
Just like advantages, a restaurant manager's responsibilities come with a few disadvantages too-
Not fixed hours job

Bit hectic

Sometimes, it becomes challenging to handle customers
Scope of a career as a restaurant manager: – 
A restaurant manager has a wider scope in the hospitality sector. You must keep in mind that changing job means relocating in the restaurant manager field. Therefore, whenever an opportunity knocks at your door, grab it if you find it desirable to you. A restaurant manager –
Can start own restaurant.

If having experience working in a big company can apply for a corporate position.

Can move to a similar position in the other big company or franchise, etc.
Job opportunities in the career as a restaurant manager: – 
A restaurant manager has multiple options in various areas when it comes to job opportunities. The following mentioned job opportunities are some of them:-
Hotels

Leisure groups

Big Hotels

Brasseries or French-style restaurants

Café bar

Individual restaurant

Themed restaurant

National or international chains of hotels
It would be clear to you from the above brief information what a restaurant manager is, the duties of a restaurant manager, the scope in this field, the advantages and disadvantages of being a restaurant manager, etc. Overall, it is a job for those who are passionate about the hospitality industry, interested in working flexible hours, responsible enough to manage everything, and earning a smart salary.
Are you also interested in making a career as a restaurant manager?
To become a restaurant manager and serve in hospitality, one must briefly know the hotel management industry. And this knowledge comes from education or doing any certified courses related to the same. Yes, numerous courses are provided by the hotel management institutes nowadays. These courses will help you start your career in the hospitality sector, and one day you'll become a restaurant manager with your hard work and consistent efforts. 
We have the best option where professional hotel management courses are provided at reasonable charges to make it easier for you. We are talking about India's one of the leading hotel management and culinary institute, NFCI. Here, professional courses are provided at a pocket-friendly cost. Moreover, all the courses provided at NFCI are recognized by national and international bodies. The professional curriculum of NFCI makes students industry experts, and it results in a 100% placement ratio. 
  'Look for your choices, pick the best one, then go with it' – Pat Riley.