Project report by NFCI Student's on "Popular eating places in Amritsar"
Gian Lassi
Think of Punjab and first aspect that hits the thoughts is its rich cuisine. Other than the never-ending list of delicious mouthwatering dishes, it's the traditional Lassi – the popular drink that never fails to energize and refresh. No matter what the meal size is, a Punjabi at heart will wash it all down with a glass-full of creamy lassi!
Gian Lassi has carved a niche in the food world of Amritsar and much beyond the geographical borders of this historic city of Punjab. A pioneer outlet since 1927, there is no comparison to the authentic lassi that is served with a promise of hygiene and class too. Although all varieties of salted and sweet-lassis are relished by the huge clientele of this outlet, it is the "Pede Wali Lassi" is simple the run-a-way hit with anyone who tastes it! Gian lassi also offers the entire range of pure dairy products along with a wide variety of sweets to choose from.
For all those lassi lovers – Gian Lassi located opposite Regent Park, Gargar Mal Road, is a must visit the place. This popular outlet is open from 10 am to 10 pm. The best part of savoring the lassi here, of course with a dollop of cream, is the nominal rate, which is as less as Rs.40/-.
Kesar Da Dhaba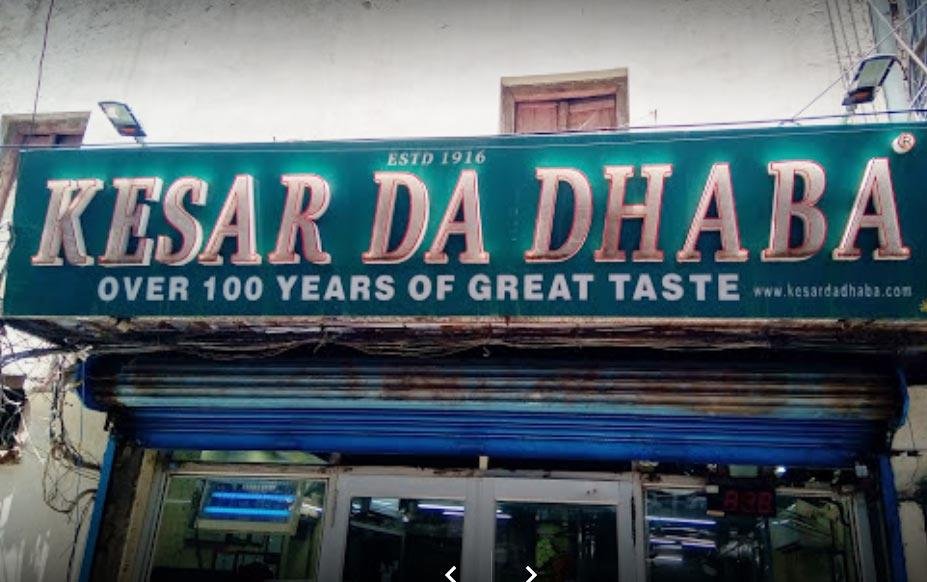 This year – 2019, "Kesar Da Dhaba", the legendary curry house of Amritsar, completes its illustrious 103 years of existence. Pre-partition, it was in the town of Sheikhupura, now in Pakistan, that this popular Dhaba saw its humble beginning by Lala Kesar Mal. With glorious years of existence that has brought popularity and fame, this dhaba sees a continual footfall of almost everyone who Amritsar. Known for retaining and preserving the authentic Punjabi flavors in every dish served, the dhaba also promises a true value-for-money deal. The "Punjabi Thalis" served here are wholesome, both in content and savors. Located at the Chownk Passion, Kesar Da Dhaba is open from 11:00 am to 11:00 pm. The taste of "Dal Makhani" of this Dhabha is an exclusive experience in itself. Each portion size cost here works out to be approximately Rs. 100/-, and will leave you earning for the next visit.
Mandir Shri Longa Wali Devi – "Shri Krishan Mishtan Bhandar"
The ancient Hindu Temple of Amritsar – "Mandir Shri Longa Wali Devi" draws huge crowds of devotees from all over the city and beyond. It is since 1995, that a canteen offering full-fledged meals at subsidized rates, was opened up for pilgrims and visitors. Named "Shri Krishna Misthan Bandhar", this eating place is always thronged by devotees who vouch for both the taste and purity of the food served. Other than food items, an assortment of snacks and confectionaries are a treat to all.
The rice and milk delicacy – "Phirni" is by far an all-time favorite, with its popularity going places. "Shri Krishna Mishthan Bandhar" welcomes visitors right from 5.30 am to 10:30 pm.
Kulcha Land
The humble "Kulcha", a mildly leavened flatbread has a fantastic rooting in Punjab and the Amritsari Kulchas are a household name in the region, having transcended the boundaries of the city. "Kulcha Land" was the pride of Lahore prior to 1947, and later opened up in Amritsar, post-partition near Gurudwara Bhai Salo Ji. Kulcha Land earlier had two outlets, strategically located in the city at Katra Dulho and Maqbool Road; in the recent past, they have now been merged into a more happening eatery – "Kuchla Land" at Ranjit Avenue.
75 years and more since its inception – the glory of Kulcha Land has not lost its shimmer and generations after generations, the taste and authenticity of the popular bread have been kept intact.
People from near and far swarm into this eatery all through the day from 8 am to its closing time – 4 pm. The sought after Kulchas are Alu – Kulcha stuffed with a spicy potato mash with a generous load of green herbs. Although, the masala and Gobhi Kulchas are also really popular. A generous helping of butter and pickles leave one's taste buds all satisfied and content. The kulchas are affordable due to their pocket-friendly pricing.
Beera  Chicken
Ask a Chicken lover in Amritsar for the best place to relish the delicacies, and in all probability, he will name "Beera Chicken", the one-stop joint for an array of mouth-watering dishes. The slow and systematic cooking of the chicken is the finest way to preserve the juicy and succulent nature of the meat, adding the right ratio of condiments, the kitchen ar Beera Chicken brings out the most authentic flavors that have been kept intact over 70 years of existence. Located at Majitha Road, Amritsar, this humble eating place promises to treat you royally – with the specialty being the irresistible butter chicken, that leaves you licking your fingers till the last morsel.  One can easily see hungry stomachs making a bee-line towards this joint through its open hours – 2 pm to 10 pm.
Makhan Fish Corner
For those who want to indulge in delicious Chicken and Fish delicacies, being in Amritsar and not visiting Makhan Fish Corner might be termed as a sin in itself. Located in the busy bustling Majitha Road, this culinary hub serves the most-lip smacking fish and chicken delicacies that one could ever ask for. With humble beginnings dating back to the year 1962 by Sardar Sucha Singh, this place has garnered a status of its own, materializing the envisioned dream of the founder. Keeping up the legacy set by his father, S.Malkit Singh took over the place and with his unwavering grit and determination, attracted more and more customers who were looking for quality coupled with taste. Harjit Singh and Simranjit Singh, the next generation of the family, along with their father, have expanded the family heirloom appending a restaurant, a bar, and a banquet hall, family although serving scrumptious delicacies is at the heart of the entire Makhan Culinary Domain. The dishes that top the food charts are all fish preparations and an endless list of chicken dishes – Butter Chicken, Karahi Chicken, Methi Malai Chicken to name a few. Makhan Fish & Chicken Corner with 12 open hours from noon to midnight, is a boon to all the food lovers, who drool over each spoonful of delicious preparations.
Pal Ka Dhaba
This popular Punjabi Dhaba located at the busy junction "Hathi Gate" is an eminent eatery haunted by the lovers of non-veg cuisine. The traditional Dhaba has not changed much for the past 60 years. There is a dedicated following for each of the popular delicacy served at this modest dhaba. The much talked about delicacies are the Lamb Trotter Soup – "Kharode ka Shorba", "Paaya"- a mutton-based preparation along with a wide variety of tandoori "Naans" to go with. The Keema Parantha is much called for which is famously paired with freshly pounded green "chutneys". The richness and authenticity of the flavors can be vouched for. Pal Ka Dhaba throws opens its doors from 11 am to 11 pm, with a clientele not only from within the city but far-a-way places too!