Top 5 Quick Sandwich Recipes To Satisfy Your Hunger:-
There are many times when hunger makes you crazy?
Agree?
But, do know there is a way to satisfy your hunger and that too without putting so much efforts.
Oh my god! Look at your smile
We know that you are curious to know what we are talking about. Any guess?
Yeah…. You got us right; the quick and easy way to satisfy your hunger is a Sandwich.
What is Sandwich?
A sandwich is a food typically consisting of vegetables, cheese, and meat (optional), placed between slices of bread. It may also include a variety of spreads, such as mayonnaise, ketchup, mustard, or pickles. Also, a Sandwich is a quick and easy way to get a nutritious meal. It can be made with various ingredients so that you can tailor it to your own taste. Plus, sandwiches are portable so that you can take them with you on the go.
Now, you must be looking for some quick and easy sandwich recipes that will satisfy your hunger? So, look no further. The following quick sandwich recipes are perfect for any occasion.
Whether you're looking for a quick lunch or a tasty snack, these sandwich recipes will hit the spot.
So, what are you waiting for? Start cooking. But, before that, you must know the benefit of sandwiches.
Benefits of Sandwich: –
There are plenty of benefits to eating a sandwich. Here are just a few:
Sandwiches are a great source of both protein and carbs.
They're easy to make and easy to eat.
They're portable, so that you can take them with you on the go.
They're a great way to get a variety of different nutrients in one meal.
They can be tailored to your own taste.
If you're looking for a quick and easy meal, a sandwich is a great option. With so many different ingredients available, you can customize your sandwich to suit your own taste. Plus, sandwiches are easy to eat and easy to transport, making them a great option for busy people on the go.
We have mentioned some quick sandwich recipes that can satisfy your hunger.
Top 5 quick sandwich recipes to satisfy your hunger:-
Coleslaw Sandwich: One of the most easiest sandwich recipes is the recipe of Coleslaw sandwich. A delicious traditional Dutch Salad made of shredded cabbage with a vinegar-based dressing. The modern version of the Coleslaw sandwich is prepared with mixed veggies and mayonnaise.
   Ingredients to prepare Coleslaw Sandwich: 
Bread slice
Mayonnaise
Cheese slices
Grated carrot
Shredded cabbage
Chopped lettuce
Salt
Black pepper
  How to prepare Coleslaw Sandwich:
Cut the Coleslaw into 4 portions.
Separate the edges of the bread slices.
Apply mayonnaise on each bread slice.
Now it's time to put the cheese slice on the mayonnaise bread slice.
After that, put a portion of the Coleslaw and spread it evenly.
Mayonnaise bread slice facing the downward, close the sandwich.
Serve with tomato ketchup.
2. Fruit sandwich: It is a grilled bread sandwich made with fruits like apple, banana, pineapple, and jam. This is a perfect tea-time snack and one of the most loved sandwich recipes.
Ingredients to prepare Fruit Sandwich: 
3 bread slices
2 small peeled and ripe bananas
2 pineapple slices
1 sliced chikoo/apple
2 tbsp. mixed fruit jam
How to prepare Fruit Sandwich:
Take 2 slices of bread and apply jam to each side.
Arrange the fruit slices on one side of the bread.
Place another bread slice such that the jam side should be facing on top.
Arrange the cutting fruits once more and close the sandwich with another no jam-applied bread slice.
Grill this fruit sandwich to turn the topmost bread slice brownish.
3. Club sandwich: A three slice of sandwich with two layers of veggies, lettuce, mayonnaise, etc., is called Club Sandwich.
Ingredients to prepare Club Sandwich:   
White bread
Mayonnaise
Lettuce leaves
Vine-ripened tomatoes
Salt
Black pepper
Sliced roasted turkey
Crispy cooked bacon
 How to prepare Club Sandwich:
On lightly roasted bread, spread mayonnaise on one side
Secondly, layer bacon, ham, and lettuce.
Top it with the final slice of bread.
To secure the layers, you can use sandwich picks.
 4. Basil Sandwich: It is a quick and best vegetarian meal. Perfect for those who don't like to cook in this hot summer. A basil sandwich is usually made with basil mozzarella and tomatoes on Italian bread.
Ingredients to prepare Basil Sandwich: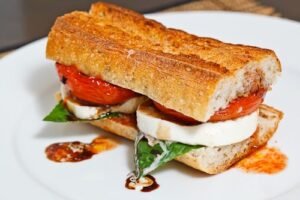 Italian bread
Mozzarella cheese
Sliced plum tomatoes
Fresh basil
Balsamic vinegar
Salt
Olive-oil
Garlic powder
Grated parmesan cheese
 How to prepare Basil Sandwich:
On four cuts of bread, layer mozzarella and tomatoes.
Sprinkle with the basil, vinegar, salt, and pepper. Top with remaining bread.
Mix oil, Parmesan cheddar, and garlic powder in a small bowl.
Now, brush over the exterior of each sandwich.
On medium heat, toast the sandwich until it becomes golden brown from both sides and the cheddar is liquefied.
5. Alsatian Sandwich: One quick sandwich recipe that satisfies your hunger is the Alsatian Sandwich.
Ingredients to prepare Alsatian Sandwich:
Rye bread
Horseradish
Sausages
Black radishes
 How to prepare Alsatian Sandwich:
Mix butter with grated horseradish.
Spread it on two thin slices of rye bread.
Fill it with thin slices of poached Strasbourg sausage.
Peel, and cut it diagonally.
Add thin slices of black radish.
It must be clear to you now that the above mentioned sandwich recipes are the quick and best option to satisfy your hunger. So what are you waiting for? Try the above recipes, satisfy your hunger, and chill.
If you want to learn more recipes like the above, I-learning would be the best option. The best thing about this is that it is an online learning platform; it means you don't need to come out and do some extra efforts. You can also learn breakfast dishes in the morning mania course; learn to make cakes in the cakes and cookies course, etc. Many more courses like these are available on the I-learning.
You can also get a 'Certificate' at the time of completing the course while sitting at home. The course prices are very reasonable for I-learning compared to offline classes. So overall, a one-stop-learning platform like I-learning will be beneficial for you if you opt for any course here.