Top 10 Recipes you should try on Holi
Holi is one of the most famous Hindu spring festivals of colours. It is also Known as many names according to localities in India. Before Holi, the day is known as Chotti Holi or Holika Dahan. On Chhoti Holi, holy pyres are burnt on open spaces and streets, meaning the triumph of good over insidiousness. On Holi, people smear shading on one another and celebrate with music, dance, Sweets. Holi is best celebrated with loved ones, friends and relatives. NFCI shares top 10 Recipes you should try on Holi.
1. Chandakala
Ingredients:
Maida (all-purpose flour)---500 gm
Desi Ghee---4-5 tbs
Water---360 ml
Oil for deep frying---1 kg
For the filling:
Poppy seeds---20 gm
Khoya---400 gm
Almond---40 gm
Sugar powder---30 gm
Cardamom powder---1 tsp
Cashew nut---30 gm
Raisin---20 gm
Desi Ghee---2 tsp
Coconut Powder---2 tsp
For Sugar Syrup:
Sugar---500 gm
Water---300 ml
Saffron--- Few Pinch
Method:
For dough-
Melt the ghee. Pour on the maida.
Mix well and by adding water, make a semi soft dough.
Cover with a wet cloth and keep to rest for at least 20 minutes.
For filling-
Dry roast lightly – Cashew nuts, almonds, chiroonji, khuskhus and coconut one by one and keep in a bowl to cool.
Heat ghee in a pan and roast the khoya lightly. Let it Cool.
Now mix all the ingredients of filling together.
Sugar Syrup-
Combine sugar and water in a broad pot or pan . Once it starts boiling lower the heat and let it boil for 5 minutes.
The syrup should be of ½ string consistency. (That is, if you rub between your thumb and first finger it should not form like a string but should feel a little sticky)
Add a few strands of saffron and set aside.
How to proceed:
Knead the dough and divide it into 50 to 60 portions. Make balls and flatten them.
Roll them like very small pooris. (2 poori's are required for 1 chandrakala)
Put  a spoon full of filling and moisten all around  the edges with water and maida paste.
Cover with another  poori. Press to seal so that the filling does not come out while frying.
Now twist the edges with your thumb and first finger.
Fill all the pooris like this.
Heat ghee on medium heat and slide the prepared Chandrakalas in batches of 5 to 6 depending on the size of the frying pan.
Once they start to puff up reduce the heat to low and fry till light brown.
Drain and dip in the prepared syrup.
After five minutes turn so that the other side is also coated with the syrup.
Take out from the syrup on a plate.
Similarly fry all and soak in the syrup.
2. Shahi Thandai
Ingredients:
Black Peppercorns---20 gm
Poppy Seeds---2 tbs
Fennel seeds---1 tbs
Melon Seeds---2 tbs
Cashew nuts---30 gm
Almonds---30 gm
Full fat milk---1 ltr
Sugar---30 gm
Cardamom Powder---1 tbs
Saffron---few pinch
Rose Essence (optional)---2-3 drops
Method:
For Thandai Masala, in a bowl mix Black peppercorns, Poppy Seed, Fennel Seeds, Melon Seeds, Cashew nuts.
Soak all the ingredients in about 1/4 Cup warm water for 30 mins.
Soak 25 Almonds/Badam separately in warm water for 30 mins.
After 30 mins, peel skin off the Almonds.
Grind the Almonds and other soaked nuts & spices in Mixer Jar to a smooth paste using water if needed. Keep Thandai Masala aside.
Boil milk in a Pan and add Sugar, Cardamom Powder and Mix well.
Cook for 1-2 mins then switch off the flame.
Add saffron (soaked and rubbed in little warm milk) and Rose Essence.
Add the Thandai Masala paste to the hot milk and mix well.
When Thandai comes to room temperature refrigerate for at least 4-8 hours or overnight.
After 8 hours, give Thandai a good mix and strain.
Thandai is best served chilled! Refrigerate again until needed.
3. Gujiya
Ingredients:
 Wheat Flour--- 3/4 cups
 Plain flour---1/4 cup
Rava Sooji---2 tbsp
 Baking Soda---1 pinch
Milk Warm---as required
Salt---as required
Coconut Grates--- 1/2 cup
Sooji---1/2 cup
Sugar Powdered---1/2 cup
Cardamom powder---1 tsp
Nutmeg powder---1/4 tsp
Cashew nuts & Pista---Fistful
Ghee---Fistful
Oil---For frying
Method:
In bowl,take the dry ingredients for making dough and mix well.Add warm water little by little and make a soft but non sticky dough. Cover it with a wet cloth and keep for 30 mints.
Now heat a pan and a dry roast the sooji or rava for few seconds/till they become slightly roasted.Simmer the flame and add 3-4 tblspn water. Let the water dry up and the rava gets cooked in this water.Now add the grated coconut,powdered sugar,cardamom powder,and ghee.Mix and stir everything well for 2-3 mints(in low flame).
Remove from fire and let it cool down a bit.Now add cashews also and combine the mixture well with your hand(this will help to break the lumps formed while cooking rava/sooji).
Now make small balls out of the dough.Roll out into small pooris(you just cut them using cutters or some small bowls to make perfect shaped circles).Place some filling in the center.Fold the poori to one side.Press well along the sides and seal completely.
Now deep fry the gujiyas in oil(in medium flame) till they become light brown on both sides.
It can be dipped into sugar syrup or serve as well.
4. Malpua
Ingredients:
All Purpose Flour---200 gms
Fennel Seeds---1 tsp
Powdered Green Cardamom---1 tsp
Clarified Butter---1 cup
Water---250 ml
Khoya---50 gm
Semolina---100 gm
Baking Powder---1/2 tsp
Milk---500 ml
Sugar---250 gm
Saffron---As Required
Chopped Pistachios (For Garnish)---2 tbsp
Method: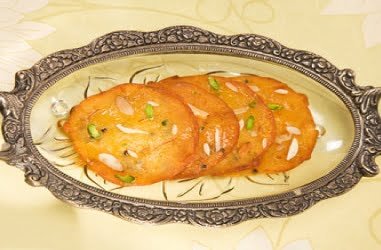 For Sugar Syrup- 
Place water in a pan over medium flame.
Add sugar in it and stir until fully dissolved.
Then add 2-3 tsp milk and stir again, after a few minutes remove the scum that rises to the top.
Once the sugar syrup is thick, remove the pan from the flame and keep aside.
For Malpua-
Mix maida, rava, khoya, baking powder, fennel seeds, cardamom powder and milk.
Ensure that the mixture has a pourable consistency and is not too thick. Once the batter is ready.
Keep it aside for few minutes so that the flavour of spices and herbs are fully absorbed.
Now heat ghee in a pan over low flame.
Pour a ladleful of the mixture and spread evenly.
Keep the flame low and cook till it is light brown on both sides.
Remove the cooked malpua and drain the excess ghee.
Drop the malpua in sugar syrup and allow it to soak for 10 minutes.
Repeat the same with the remaining batter.
Drain the malpuas from the syrup, garnish with pistachios and serve hot.
5. Laung Lata
Refined flour---150 gm
Sugar---100 gm
Ghee---4 tbsp
Water---150 ml
Nutmeg powder---1 pinch
Green cardamom powder---1 pinch
Laung- 5
Dry coconut , grated---50 gm
Slice almonds---50 gm
Slice cashew nuts---50 gm
Slice Pista---50 gm
Raisins---50 gm
Oil For frying
Method:
Boil sugar with water in a saucepan till two-stiring sugar syrup is obtained. Keep warm on the stove.
Mix together the sliced nuts nutmeg powder, elaichi powder, ghee and sugar.
Rub together ghee and flour and make stiff dough with water.roll the dough in circle (6 inch X 1/8)
Put one table sapoon of the mixture at the centre of the flat round dough and flip over all the sides one after the other.
Anchor the sides with a clove.
Deep fry in the oil on low flame till golden brown.
Drain and dip in the sugar syrup for 10 minutes, drain and serve.
To be Continued....