'Record Making is an Extraordinary Experience in which an individual can make a difference but a team can create a miracle'
NFCI has made this possible by preparing and displaying 725+ millet based dishes in 53 minutes at multiple locations and registered the name in the 'INDIAN BOOK OF RECORDS'.
The various locations of our 15 campuses are Punjab, Haryana, Himachal Pradesh, Karnataka, Chandigarh, Uttar Pradesh across India, in which all the students and faculties executed with utmost dedication and commitment.
Indian Book of Records (IBR) is dedicated to recognize excellence and honor the most deserving contenders.
Yeahhhhh! We have done it. Hurraayyyyy….!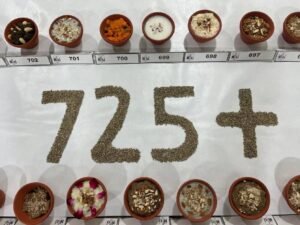 NFCI has always believed in doing something exceptional and outstanding.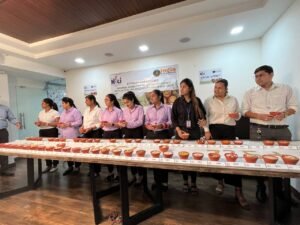 All the dishes were based on 'Millets' such as Pearl Millet, Little Millet, Sorghum, Kado Millet, Finger millet, Foxtail Millet, barnyard Millet, Finger Millet, etc.
To make this record a success in the Indian Book of Records, NFCI was given the target of making 380 millet based food items in 60 minutes. We created the record of 725 dishes in 53 minutes thereby achieving a milestone and setting a new record.
During the display various varieties of dishes such as porridge, Khichdi, Pudding, Cutlets, Halwa, Kheer Muffins, Idli, Dosa, Chapati, Paratha, Puri etc., were included.
Dr. Vinod Singh, adjudicator from Indian Book of Records validated the entire record attempt.
Mr. Pemninder Singh Nagpal (Managing Director, NFCI), Ms. Anjna Joshi (Director, NFCI), Mr. Sanjeev Kashyap (Director, NFCI), Mr. Naveen Dua (HR & Training head) and Mr. Pawan Ailawadi (NFCI's HOD Academics) led the entire event. The entire NFCI Group teams at various locations created a commendable history by entering the Indian Book of Records.
Moreover, the food prepared by all the students and team members of NFCI Group was distributed amongst the needy people from slum areas and NGO's.