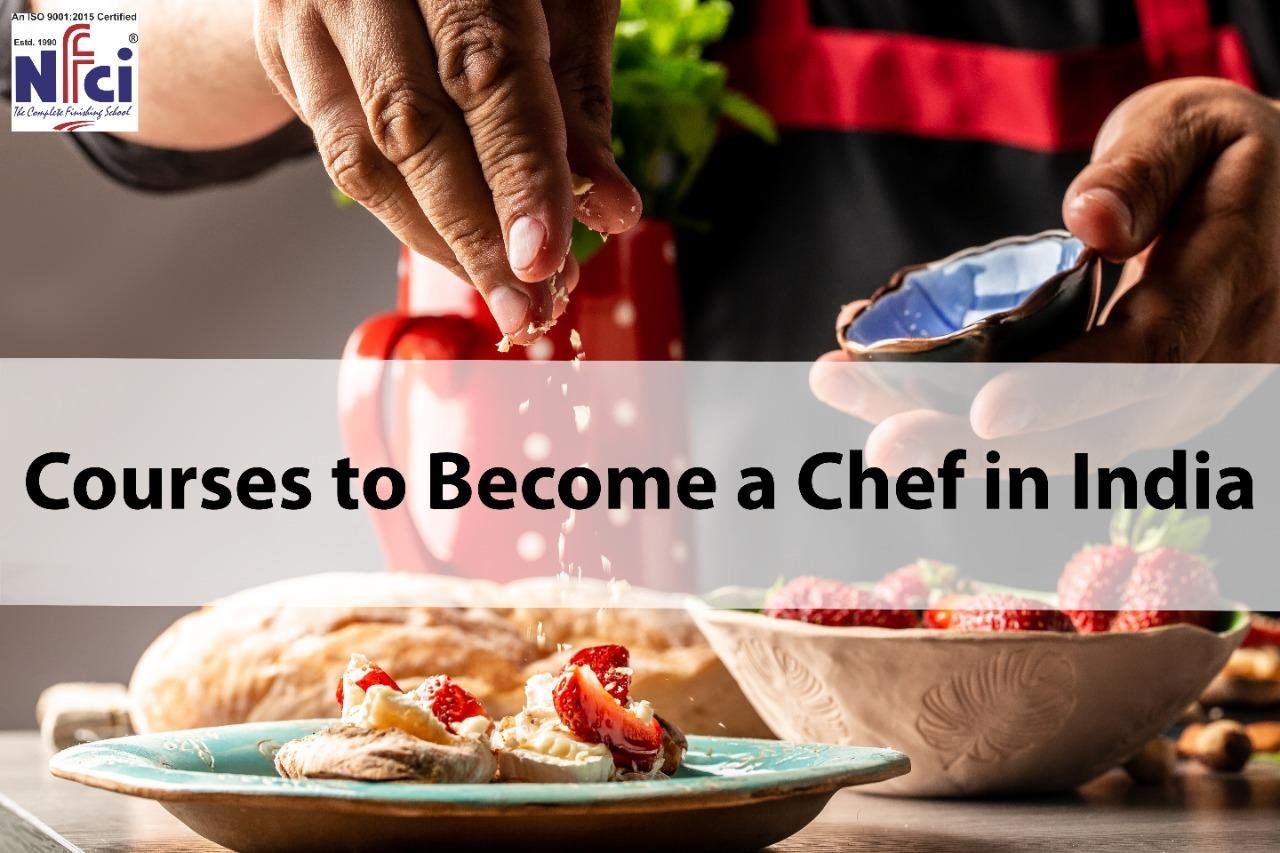 Courses to become Chef in India
Courses to Become a Chef In India
Have you always dreamt of becoming a Chef? Do you have a passion for cooking? If so, you need to act early. The Food & Beverage (F&B) sector offers a range of exciting career opportunities owing to the popularity of fine food all across the globe. The good news is that now there are plenty of opportunities to realize your career dream. You would be happy to know that the National Finishing and Cookery Institute (NFCI) is one of the most renowned Hotel Management Institute that offers a wide range of courses to provide a firm foundation to your career as an expert chef. Let's check out some basic tips to realize your career dream:
Informal ways to pursue a Chef's Career:
 Learning from watching cooking shows on TV or YouTube Cooking Shows

 You could informally join some good restaurant as an assistant to the cook, once you have gathered some basic knowledge about cooking.
Formal Ways
If you are serious about your chef career it is best that you opt formal training. To avail of the employment opportunities in the hospitality industry you need the right credentials. It is only a renowned hospitality training institute. It must have a strong job placement cell and tied up with the leading hotels. The training course must be such that along with building your credentials will build your culinary skills too. You need to check the quality of the trainers who would be training the candidates. Once you are sure about these two factors it is best that you undergo the training courses from these types of training institutes to give your chef career a solid foundation.
Speaking of top Hotel Management Institutes, the National Finishing and Cookery Institute (NFCI) is a leading Hotel Management Institute in India the field which offers ideal f &b training courses to give your career a distinct edge. The following is a list of the courses offered.
F & B Production Courses to Become Chef
Trainee Chef (NSDC)
It is a course that comes under the National Skill Development Corporation. Here the candidates are trained to develop all the skills associated with Culinary Craftsmanship. You would learn the preparation of various types of dishes which include Tandoor, Chinese, and Continental. You would be trained in a diverse range of cooking styles usually utilized in the top 4- & 5-Star Hotels. Trainee Chef course with a duration of 6 months which will help you first put your stepping stone in the F& B industry.
Catering Management (NIOS)
It is another beneficial course with a course duration of 1 year. On enrollment for this course, you would be trained primarily in catering. Through this course, the candidates learn the proper management of time and both the quality and quantity of food. The candidates in  Catering Management Course have the opportunity to work in beautiful kitchens. And they are also taught the optimum utilization of special utensils often used at state-of-the-art kitchens.
Certification Course in Food Production & Culinary Arts
Along with the above mention courses, NFCI also offers career aspirants a certification in Food Production and Culinary Arts. It is a specialized course offered in collaboration with the very eminent AHLEI  (American Hotel and Lodging Institute). The course duration is for 1 Year out of which there is an industrial training of 6 months. On successful completion of this course, you would have accreditation of international standards, and you can think in terms of employment opportunities all across the world.
Diploma in Cookery
Last but not least, under the Food Production Category, NFCI offers the Diploma in Cookery, which is given by the well-known NFCI (National Finishing and Cookery Institute). By undergoing this cooking course, you would enhance your cooking skills to the highest levels. The course is of a duration of 1 year which includes six months of industrial training.
For whom are these Food Production Courses most suitable?

✔ For any young career aspirant who wants to build a successful career in the F&B industry.
✔ It can be the perfect stepping stone for a very successful career as a chef, even if you have just passed your class 10
✔ These courses are also suitable for those working in the hospitality sector but are looking to sharpen their cooking skills.
✔ For anyone who is wanting to start up one's restaurant or food business.

Even if you are from a different background, there is no restriction, and you can also enroll in these government-recognized cooking courses. If you fulfill the basic eligibility, you can register for this course at NFCI.
What will you learn on the successful completion of the Food & Beverage Production Courses?

Following the successful completion of any of the NFCI Courses under the F&B Production Section, you would indeed acquire the highest cooking skills. It pertains to the preparation of a variety of dishes like Tandoori, Chinese, and Continental. You will acquire complete insight into various types of cooking styles utilized at the top 4- & 5-Star Hotels. NFCI has got a dedicated job placement cell. You would have the career opportunities to get recruited at the most renowned and high-end Hotels, including the likes of Radisson, Hyatt, Marriott, and Ramada. You will also have the opportunity to have international employment opportunities.
Make your career dream of becoming an expert chef come true. All you need to do is simply enroll online at the most affordable rates. Once you do this, you would avail yourself of the teaching from industry professionals and expert educators. Give your cooking career the perfect start and gain the opportunity to work at top hotels, restaurants, resorts, cruises, bakeries, and so on. You would have certifications that are well recognized in the industry and would provide you with the perfect opportunity to work and earn lucratively.
Set a firm footing in the Food & Beverage Industry through the broadest range of NFCI F&B Production Courses.