A Workshop on Healthy Street Food – NFCI At Hindu Kanya College, Kapurthala
'The Capacity to learn is a Gift; the ability to learn is a Skill; the willingness to learn is a Choice –Brian Herbert'
To commemorate the 5th National Nutritional Month, Hindu Kanya College, Kapurthala, has invited NFCI for one day workshop on 'Healthy Street Food'.
What is Healthy Street Food?
Healthy street food is a new trend in the food industry. It is a type of fast food that has been made with healthier ingredients, such as vegetables and fruits, and has fewer calories than traditional fast foods.
This new trend aims to provide people with a healthier alternative to traditional fast foods. Nowadays, Healthy Street food can be found in many cities all around the world. The workshop's focus was also to promote nutritional food and good health.
(Healthy Street Food Dishes)
NFCI's Director, Ms. Anjna Joshi and Head Chef Ram Krishan Banger led the workshop with their students.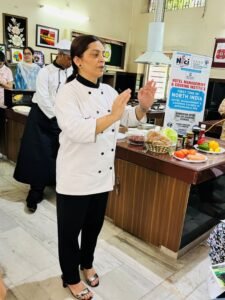 In the workshop, Head Chef Ram elaborated on different ways to add nutrients and supplements to the food. Also, along with NFCI students, he demonstrated different recipes like Apple Walnut Salad, Crispy nachos with Mexican Salsa, Dip Oats, Chilla, Wrap, etc.
Following Mentioned The Details of Healthy Street Food Made In The Workshop:-
Multigrain Sandwich with hung Curd
Ingredients:
1 cup hung curd, 2 tbsp Cream, 50 gm carrot (grated), Lettuce, ½ tsp pepper (crushed), 50 gm capsicum (finely chopped), 2 tbsp corn (boiled), 1 tbsp Mint Chutney, ¼ tsp salt, 8 slices Multigrain bread.
Method:
Add hung curd, cream, mint chutney, salt and black pepper in a bowl. Mix them well.
Add all the vegetables and combine them well.
Now take 2 bread slices and spread 2 tbsp. of prepared curd sandwich stuffing. Place a lettuce leaf on it and seal with another slice.
Finally, cut half and serve.
Multigrain Bread
Ingredients:
450 gm Whole Wheat Flour, 10 gm Sugar, Salt, 75ml Water, 10 ml oil, 2 gm Bread Improver, 4 gm Gluten, 10 gm Yeast, 20 gm Multigrain seed mix.
Method:
Knead flour properly to make dough.
Garnish Multigrain seed mix on the dough and let it rest for at least 30 minutes.
Put the dough in the oven for 20 minutes at the temperature of 200 degree.
Cut the bread into slices and serve with mint sauce.
Crispy Nachos with Mexican Salsa Dip
Ingredients:
For Dough:
50 gm Whole Wheat Flour, 50 gm Ragi Flour, 100 gm Maize Flour
, 4-5 tbsp oil, Salt as per taste, 1 tbsp Chilli Flakes, Warm Water for kneading
For Salsa Dip:
1 tsp Olive Oil, 3-4 Garlic Cloves fine chop, ½Onion Fine Chop, 1 Tomato Fine Chop, ¼ Capsicum Fine Chop, 2 Green Chilli Fine Chop, 3-4 Black Olives Fine Chop, 2-3 tbsp Sweet Chilli Sauce, Lemon Juice, Green Coriander, Jalapeño
Method:
Make soft dough by mixing all the ingredients.
Make balls from the dough flatten with rolling pin as thin as thin as possible.
Cut triangular pieces of the dough and place them in baking tray.
Bake or fry them. If you want to bake then keep the temp 220 and keep it in baking for 10-15 minutes till crisp.
Mix all the ingredients of salsa dip.
Serve nachos with salsa dip.
Oats Chilla
Ingredients:
50 gm Oats Flour, 150 gm gram flour, 1 Onion Chopped, 1 Tomato Chopped, 1 Capsicum Chopped, 2-3 Green Chilli Fine chopped, 15 gm Green Coriander Fine chopped, Salt as per taste, ½ tsp black pepper, Water as required
Method:
Make a batter of pouring consistency by adding all the ingredients.
Take a non-stick pan. Grease with oil.
Pour a ladle full of batter and spread as thin as possible.
Cook from both sides till golden brown.
Serve with mint chutney.
Mexican Wrap
Ingredients:
For Dough:
100 gm Whole Wheat Flour, 100 gm Maize Flour, 2 tbsp oil, Warm Water for kneading
For Filling:
1/2 cup Rajma (Large Kidney Beans) Canned, 4 cloves Garlic, finely chopped, 1 teaspoon Sour Cream, 1 tablespoon Mexican Tomato Sauce, 1 teaspoon Oil, Salt to taste, 1/2 Red/ Yellow Bell pepper (Capsicum), thinly sliced, 1 Onion Sliced, Lettuce, Green Coriander, Jalapeño, Green Chilli, Fresh lime Juice.
Method:
For making the filling, heat a pan and add oil. After oil is heated, add garlic and sauté for a few seconds.
Add the rajma, season with salt according to your taste and cook for 5-7 minutes. Then Keep aside.
For Wrap:
Add all the ingredients of the dough except water and mix well.
Knead the dough with warm water same as chapatti and cover with wet cloth.
Take a round ball from the dough.
Flatten with the help of rolling pin.
Cook till the both side turn little golden brown.
Keep them aside.
Steps:
Take a wrap sheet spread the sauce. Place a spoonful of cooked rajma and raw vegetables in centre.
Now, Pour some sour cream.
 After that, bring 2 sides of the wrap up so the filling settles in the centre. Then tuck the ends of the wrap towards the centre. Hold these in place and use your thumbs to roll a long side of the wrap over the filling. Keep rolling the wrap over so it's completely closed.
Serve hot.
Apple Walnut Salad
Ingredients:
2 sweet apples, cored and chopped, 1 pc. Lettuce roughly broken with hands, 50 gm. Walnuts roughly broken with hands
For Dressing:
2 tbsp Hung Curd, 2 tsp Honey, Salt, ½ tsp Black Pepper, 2 pinch Oregano mix
Method:
In a medium sized bowl, whisk together the hung curd, honey, salt, black pepper and oregano mix.
Now, Mix all the another ingredients with dressing and serve cold.
Also, 70+ students attended this workshop with great enthusiasm. Their excitement and interest were worth seeing. Moreover, many students tried their hands at making dishes under the guidance of Head Chef Ram.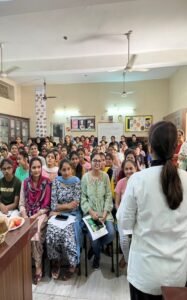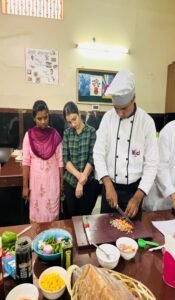 At the end of the workshop, college Principal Dr. Archna Garg and her team showed their sincere gratitude to the NFCI team for making this workshop successful.